If you, like many others, have been searching for new coffees to try in the new year, this article is for you. There are many ways to indulge your caffeine fix, beyond the simple Latte or Flat White. We've rounded up 6 of our favourite coffee recipes to try in 2023.
Dalgona Coffee
Dalgona coffee has seen it's popularity soar recently, having been shared across social media as a result of its simple three ingredient recipe. Known also as a 'hand beaten' coffee, Dalgona coffee is sweet and creamy. It is often topped with coffee powder, cocoa powder or honey.
Ingredients
180ml milk
2 tablespoons of caster sugar
2 tablespoons of instant coffee
2 tablespoons of warm water
Method
Place the caster sugar, instant coffee and warm water into a bowl
Whisk for a few minutes until the mixture becomes thick and creamy
Spoon the whipped mixture on top of the cold milk
Stir and enjoy!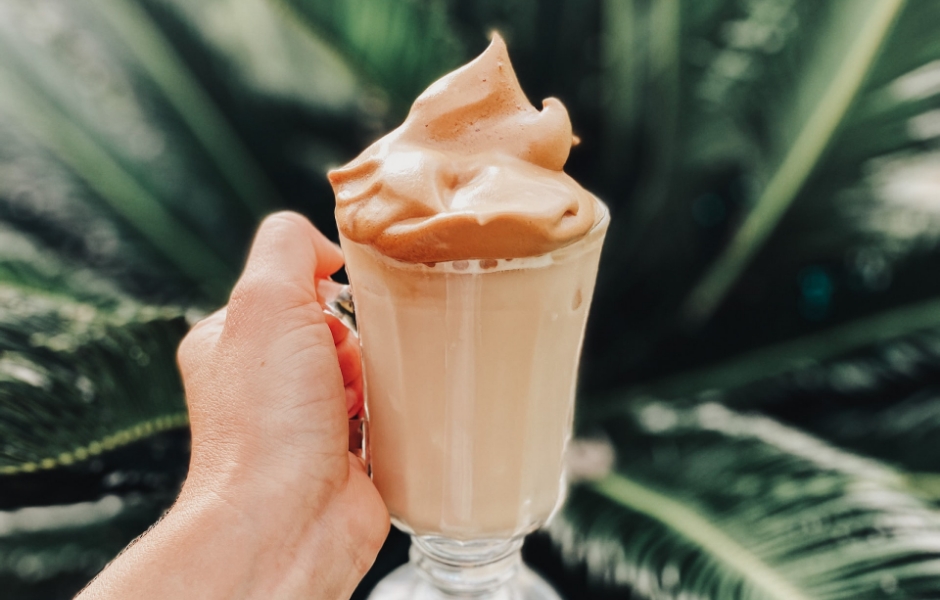 Soda Coffee
Soda Coffee is a drink of espresso or cold brew topped off with sparkling water. The drink mimics carbonated coffee, without the hassle of having to carbonate it yourself. Due to its fizziness, Soda Coffee is very similar to nitro coffee and can be enjoyed as a low-calorie drink.
Ingredients
Espresso or cold brew coffee
Sparkling water
Maple syrup or normal syrup
Method
Add equal parts of coffee and sparkling water
Add sweetener if you like or 1 teaspoon of maple syrup
Add ice
Top with cold foam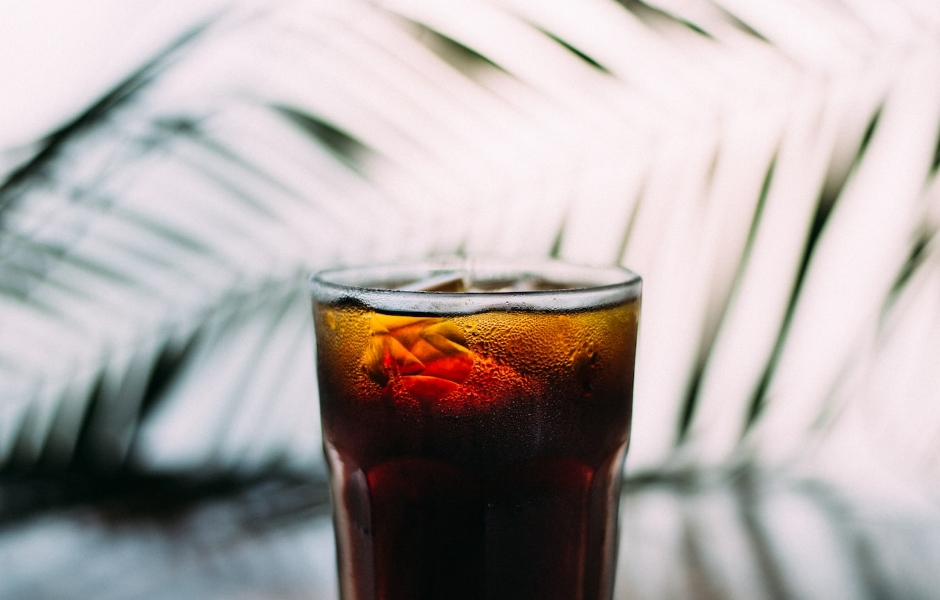 Espresso Con Panna
Espresso Con Panna ('espresso with cream' in Italian) is a single or double shot of espresso topped with a dollop of whipped cream. In the UK, you may hear it referred to as Café Viennois. It's the perfect drink for those who want their caffeine fix, but equally want something sweet and indulgent.
Ingredients
85g of whipped cream
½ tablespoon powdered sugar
1 dash of vanilla extract
2 double shots espresso
Method
Make the whipped cream by adding the heavy whipping cream with powdered sugar and vanilla extract. Whisk until thick and creamy.
Add the double shot espresso with 2 tablespoons whipped cream and serve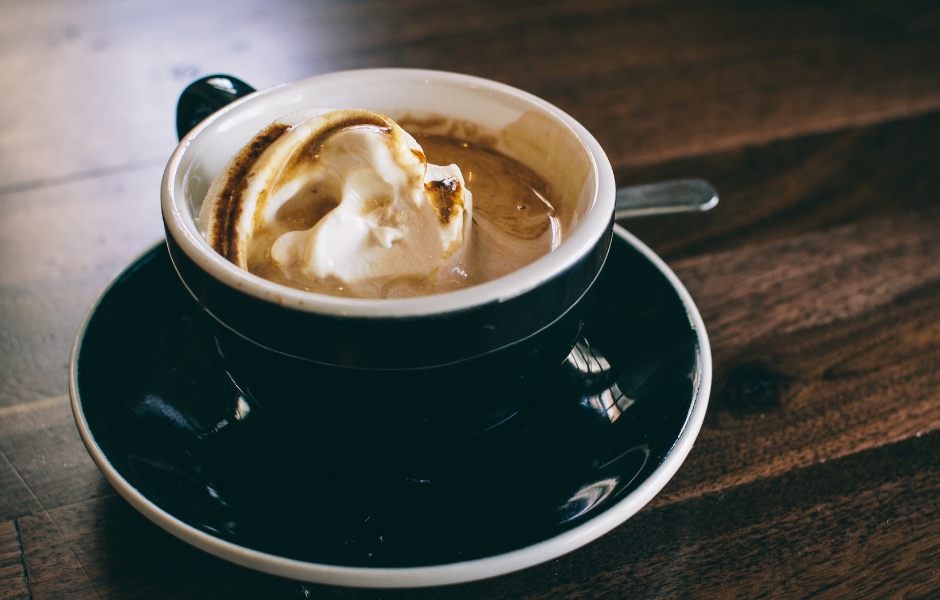 Vietnamese Coffee
The Vietnamese traditionally prefer their coffees strong and bitter. However, in this Vietnamese coffee, sweetened condensed milk (a staple ingredient in Vietnam) is used to help balance the flavours. This counteraction results in a rich, flavourful, and sweet coffee.
If you're in Vietnam and order this coffee, it will be served with a traditional Vietnamese coffee filter called a Phin.
Ingredients
3 tablespoons Vietnamese ground coffee
1-3 tablespoons sweetened condensed milk, depending on preference
6-8 ounces water that is close to boiling point
*You will also need a stainless-steel Phin Vietnamese filter.
Method
Pour 1-3 tablespoons of condensed milk into a coffee mug or heatproof glass
Place stainless-steel Phin Vietnamese filter on top of mug and add coffee grounds
Measure out 6 ounces of boiling point water (use 8 if you prefer a weaker coffee) and pour two tablespoons of hot water into the filter and wait 5 seconds.
Press on the filter gently to compress the bloomed coffee
Repeat with the rest of the water into the filter, the coffee will begin dripping into your cup or glass
Stir together and enjoy.
Dirty Chai Latte
Can't decide between tea or coffee? Why not have both? A chai latte is a traditional masala chai combined with the steamed milk of a latte. To make it a 'dirty' Chai Latte, simply add a shot or two of espresso.
Many find that the bitterness of the added coffee is enough to balance out the creaminess of the chai latte, making for a well-rounded drink.
Ingredients
2 cinnamon sticks
8 cardamom pods
4 cloves
6 peppercorns
1 star anise
2cm piece ginger, sliced
3 black teabags such as English breakfast, assam or Ceylon)
500ml whole milk, or coconut milk
1-2 tbsp brown sugar
Pinch of cinnamon
Espresso
Method
Toast the spices in a dry frying pan until they are fragrant then put them, the ginger and teabags into a teapot or cafetiere with 500ml of freshly boiled water. Leave to infuse for 10 minutes
Heat the milk with the brown sugar and stir until the sugar has dissolved. Once steaming, froth the top with a milk frother or whisk to create some foam.
As you're heating the milk or just after, make your espressos and add to your mugs.
Strain the tea between 4 mugs or heatproof glasses, then pour the milk, keeping the froth back. Stir to combine and top each latte with a bit of foam milk then dust with cinnamon.

Vanilla-Almond Coffee
If you prefer your coffee sweet, then this Vanilla-Almond Coffee will be perfect for you.
Pro tip: by swapping out the usual almond milk for almond extract, the nutty flavour isn't drowned out by the coffee!
Ingredients
500g ground coffee
2 tablespoons vanilla extract
2 tablespoons almond extract
Method
Place the coffee in a large jar with tight-fitting lid.
Add in the vanilla and almond extract and shake well together
Store in a cool, dark and dry place or in the freezer and prepare coffee as usual