You may have seen this trend recently at Starbucks, known as 'Cold Foam'. Cold foam is a replacement for alternative whopped toppings, which would usually be added to the top of iced coffee drinks. Cold foam adds the right amount of frothy delight, without adding a tonne of extra calories.
Here's the perfect recipe for making this sweet treat at home.
What is cold foam?
Cold foam is a frothy, non-fat-based milk that makes for a topping on cold drinks such as iced coffee or cold brew. It simulates the frothy topping of steamed milk in a latte or cappuccino, but at a cold temperature so that it doesn't melt.
The foam sits on top of the drink with a thick, frothy texture has cold foam on top, which gradually sinks in as you sip it. Since it's created with non-fat milk, it only adds a few calories to the beverage; but, the texture of the mildly sweetened crema topping is significantly improved.
The best milk for cold foam
Many would assume full-fat milk would be better suited to provide the creamiest foam, but it's quite the opposite. Skimmed milk makes the thickest, sturdiest cold foam. This is because skimmed milk contains a higher percentage of protein compared to whole milk.
Starbucks cold foam
Starbucks originally launched cold foam in 2014 with the opening of its Reserve Roastery in Seattle. It was served atop of Americano Con Crema. Today, Starbucks offers it's cold foam on a variety of its drinks, such as :
Cold brews
Nitro cold brews
Iced lattes
Iced mochas
Iced cappuccinos
Iced espresso
Iced London Fog tea latte, Iced matcha tea latte or Iced chai tea latte
Violet drink, pink drink or dragon drink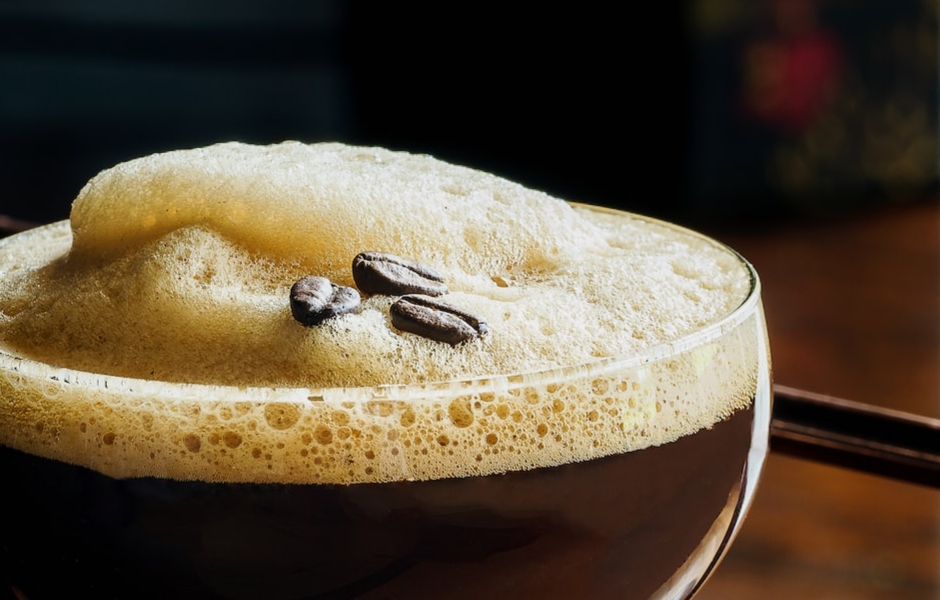 How to make cold foam at home
Cold foam is very simple to make and a nice treat to add to your cold brews.
Ingredients:
Skimmed Milk
Simple Syrup
How to make Simple Syrup
Add equal parts of sugar and water into a saucepan
Heat and whisk until the sugar dissolves. Resist the urge to simmer - you just want to dissolve the sugar.
Cool at room temperature and use once cooled
How to make cold foam with a frother
Using a milk frother, add skimmed milk and simple syrup to a tall cup and froth until fluffy. It takes roughly 15 seconds but creates a lovely froth for your drinks.
How to make cold foam with a French Press
Using the same ingredients, heat the milk and simple syrup together in a pan until it's boiling. Add the boiling milk to the French Press and pump using quick, short plunges until foamy bubbles form (approx. 30 seconds). Pour into a pitcher and tap it on the counter to break down larger bubbles. Serve in your drink and enjoy
Add flavours
There are a variety of flavours available to add an extra spark to your cold coffee. If you're feeling more adventurous, experimenting with different fruit, nut or chocolate extracts can bring a whole new experience to your coffee.