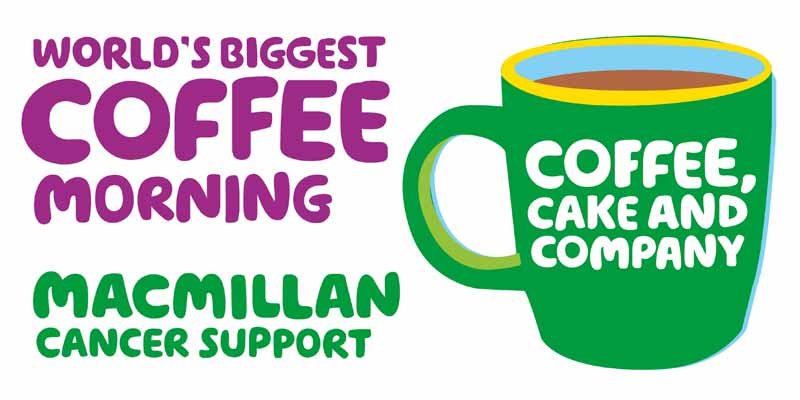 Macmillan Cancer Support's Coffee Mornings began longer ago than you might think – 30 years back – and today it's one of the largest charity fundraising events of the year. Last year, people around the country raised £27.5 million for Macmillan and the important work its people do in supporting families facing cancer. Most Coffee Mornings are organised in people's workplaces or homes, but surely there's no better venue for a coffee-themed fundraiser than a coffee shop? Perhaps even your coffee shop… It's a fantastic way to raise invaluable money for a hugely important cause, and build local awareness about your café at the same time. This year's World's Biggest Coffee Morning is on Friday 25th September. We're highlighting it now so that you've got time to prepare and publicise your own coffee morning.
However, the current global pandemic has made this years Macmillan Coffee Morning harder than ever to prepare for. Not to worry, we'll walk you through why you should still commit to participating in Macmillan's Coffee Morning and raising money for a brilliant cause, as well as how to go about doing it in a safe manner.
Why run a Macmillan Coffee Morning?
You can find out all about the good work that Macmillan does here. Don't feel guilty about seeing the fundraising as an opportunity to get good PR for your coffee shop and improve your profile in your local community. Corporate responsibility is increasingly recognised as important to big business, with the positive outcomes for the business an open benefit, so there's no shame in seeing the greater advantage. You have the chance to raise a lot of money for a good cause, while demonstrating the great quality of your coffee, the welcoming environment you've created in the coffee shop itself, and you can even team up with local businesses to offer different foods, raffle items and more besides. And since most Coffee Mornings will feature an awful lot of instant coffee from a jar, yours offers an even more enjoyable experience for participants.
How to run a Macmillan Coffee Morning
Macmillan provides lots of information on how to decorate your café – or any venue, of course – as a Coffee Morning venue, plus offers fundraising ideas, cake recipes, raffles, competitive games, promotional posters and more, on the dedicated website. It's where you'll sign up to be listed as an official Coffee Morning host, too. When you sign up, you can choose to make your Coffee Morning open to the public. Macmillan's fundraising team will give you advice on how to contact your local press to get free publicity for your coffee shop's event, and you'll be able to add your event to the online map of Coffee Mornings. Our advice is to register as soon as possible, download your promotional posters and get to work.
Your big decision is how you're going to financially support the fundraising. Will it be free coffee all morning? You may not make money, but you'll certainly win future customers over. Will it be free refills, or free home-baked cakes and biscuits? Look at your profit margin and donate what you can -in addition to your time and use of your coffee shop as a venue.
Good PR and brand-building starts with community events, and there are few events which touch so many local lives as a Macmillan Coffee Morning.
Pandemic Safety Precautions
The pandemic will definitely have a profound impact on Macmillan's Coffee Morning this year, with many establishments deciding not to take part in fundraising this year. However, if you have read our blog covering how to safely reopen your coffee shop, you'll know that there is plenty you can do to protect your staff and customers, whilst raising money for a fantastic cause.
Disinfection
It's important that your coffee shop has policies and measures in place that directly address the issue of disinfection within the shop. It's crucial that common areas such as payment areas, seating areas, tables and chairs are regularly washed and disinfected, to prevent the potential spread of a virus.
It's recommended that shared surfaces such as tables and chairs are cleaned and wiped down after every single use.
To clean surfaces, disposable gloves should be used every time. Clean the surfaces with soap and water to begin, followed by a course of disinfectant. Cleaning with soap and water reduces the number of germs, dirt and impurities on the surface. Disinfecting kills germs on surfaces.
Masks
It should be mandatory for your staff workers to wear a mask, for the safety of themselves and your customers. Following government advice, customers should also be asked to wear a mask, unless they have a legitimate reason not to.
Masks will allow for optimum safety where social distancing may become harder and will allow customers to feel more confident in their safety whilst visiting, perhaps prompting them to come back in the future.
Ordering and Service
Offering contactless payments is key - it goes without saying. It's quick, easy and physically contact free. Additionally, if paired with a perspex screen, it offers a significant amount of physical safety from the customer, reducing any potential exposure to a bare minimum.
If the customer does require a chip and pin device, ensure you clean it in front of them. This will make the customer feel safe and confident - something they're unlikely to forget!
If you want to be on the safe side, it's a good idea to not take cash at all. However, only make this decision if you know you have the required systems in place. If you do so, you'll also need to provide signage so that this is clear to the customer before they enter the shop.
Hold a Virtual Macmillan Coffee Morning
If you are put off by holding a physical event, in our digital age, why not hold a virtual get together?
If you have a smartphone, tablet or computer, there are lots of video calling platforms available such as Skype, FaceTime, Zoom, Teams, Whatsapp, House Party or Google Hangouts.
Pick the platform that works best for you, decide on a date and time, and send out an invitation to family and friends - encouraging them to make a small donation for attending! You could even bake especially for the occasion, and show off your goodies online!
Perhaps in the run-up to the Macmillan Coffee Morning, at checkout, you could ask for donations or whether or not they would like to attend your virtual coffee morning. Every little helps!