To increase sales of coffee at your coffee shop, cafe or other hospitality business, it's important to remember that coffee nowadays is so much more than just caffeine. Busy individuals are looking for an oasis to escape their everyday stresses, be it their job or other reasons. You need to offer an experience, rather than just hot coffee, to ensure you meet the needs of these people and make them want to return on a regular basis.
So what's your competition? At least one of the big four coffee chains is going to be nearby – that's a given. Perhaps you have other independent shops with a similar offering too. But don't be disheartened – our high streets are becoming service and experience-oriented, whether we really like that or not, and that means there's a demand for somewhere to sit and something tasty to get inside us.
We'll walk you through the best ways to boost your bottom line, improve customer satisfaction and increase repeat business.
Start a loyalty card scheme
Small businesses are often wary of starting a customer loyalty program, as they believe it will lose them money rather than make them money. However, this is a misconception. Infact, small businesses that offer some form of loyalty program generally see an increase in revenue - though, this is dependent on a number of other factors as well.
Simple matt-finish business cards with boxes to stamp aren't expensive, and you can invest in a unique ink stamp of hole punch to sidestep cheaters. With every coffee purchased they would receive one of these unique stamps and with a fully stamped card, you could offer them a free coffee. These incremental offers give your customers an incentive to come to your cafe more often, increasing repeat custom and increasing your revenue.
Get active on social
Your coffee shop should be regularly active on social media. If it isn't, we'd highly suggest it. It allows you to market your product offering and food and make regular customers aware of any events or promotions taking place. It also allows your business to be tagged in 'user-generated content', which you may then decide to repost yourself.
Consider becoming a member of local groups, which adds to your community involvement and should allow you to target potential customers with marketing materials. It's important to remember though that social media platforms, whilst they should be used to promote products, should also focus on brand awareness and building relationships with customers, through the creation of topical conversations.
However, it's important to note that these competitions shouldn't start and stop with social media. In order to reach as many customers as possible, you should be running the competition through your email and physical shop as well, for a fully integrated approach to the campaign!
Learn more about how your coffee shop can utilise social media and email marketing.
Cater for plant-based customers
Due to the growing popularity of plant-based diets, and the bar that has been set elsewhere, plant-based customers expect a wide range of choice – a jacket potato with some veggies will no longer suffice. You need to modernise your menu.
The process of modernising your menu to become plant-based may seem daunting, but it shouldn't be. Let your creative juices flow and use this opportunity to reinvigorate your offering and create some excitement around what you produce, be it an internationally inspired meal or a seasonal latte. Substitute meats and dairy for lentils, chickpeas, soya, oat milk or soya milk. Take a customer favourite and create a vegan friendly alternative. This ensures you won't alienate an important consumer group and creates a sense of inclusivity; all things in which vegans have come to expect.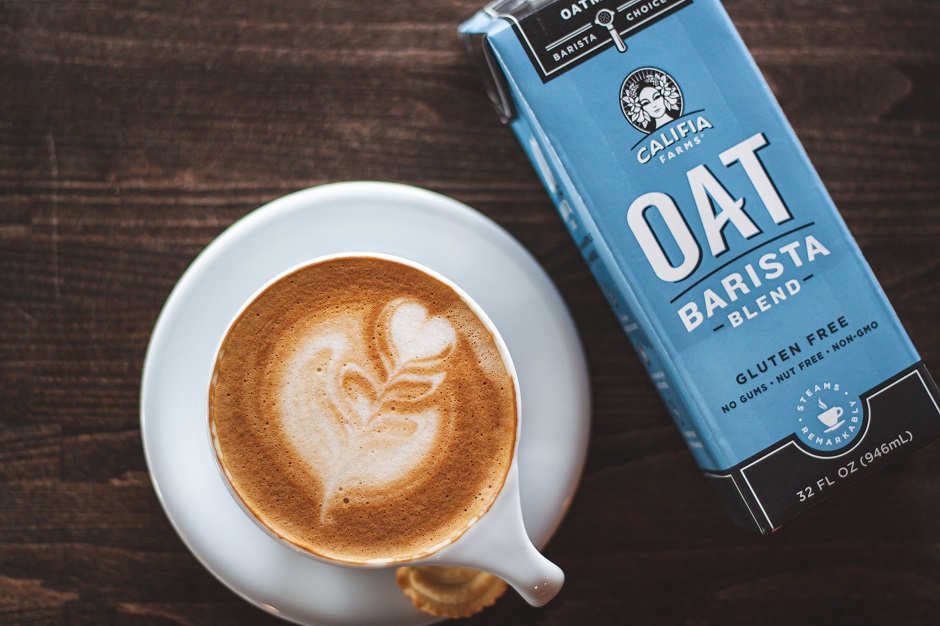 It can be as simple as stocking a variety of plant-based milks to give customers the freedom of choice to alter your coffees. There are around 20 plant-based milks, with options including cashew, pistachio, chia, sesame and hemp seed milks. However, the popular sellers are oat, coconut, almond and soy. Of course, it's not practical or economical to stock every type of plant-milk mentioned above. But it's best practice to offer at least 3, focusing on the popular sellers. In another blog post, we compared and ranked six of the best plant-based milks.
Host events and promote them
Holding an upcoming event at your coffee shop, such as a poetry reading, open mic night or an evening class in cupcake making can be a creative and exciting way to drive footfall to your coffee shop and help boost your profile.
If you do decide to host an event, ensure that you're promoting it across all your channels. Post on social media, send out emails and decorate your A-board. Perhaps even create promotion specific flyers to hand out to partner businesses and customers in the run up to the event, in order to spread awareness.
Upselling and cross-selling
Upselling is a common sales technique used by many companies to persuade customers to spend more money by purchasing an upgraded or premium version of a product or service. In our example, upselling could be suggesting a customer purchases a large latte, instead of their regular medium.
Cross-selling is another common sales technique used by businesses to generate additional revenue. However, it differs from upselling. Instead of persuading a customer to 'upgrade' to a premium product/service, cross-selling is concerned with suggesting a customer purchase an additional related item. In our example, cross-selling could be offering a slice of cake with a customer's coffee purchase.
By employing both techniques effectively, your cafe could benefit from marginally increasing each customer's overall transaction value, driving overall revenue growth.
To learn more, read our guide on upselling and cross-selling for coffee shops.