And are you still just dishing out the dairy?
Square UK, a card payment company, has released its first ever Coffee Shop Report. With its reach direct into customer spending at independent coffee shops all around the UK, the company's research is based on sales data rather than relying on any human recollection of facts and figures. So, what's the most popular coffee in your coffee shop, and does it tally with Square's average findings? It is… (insert your own drum roll here) … the latte. That's didn't really come as a surprise to us and it probably won't have to you, either.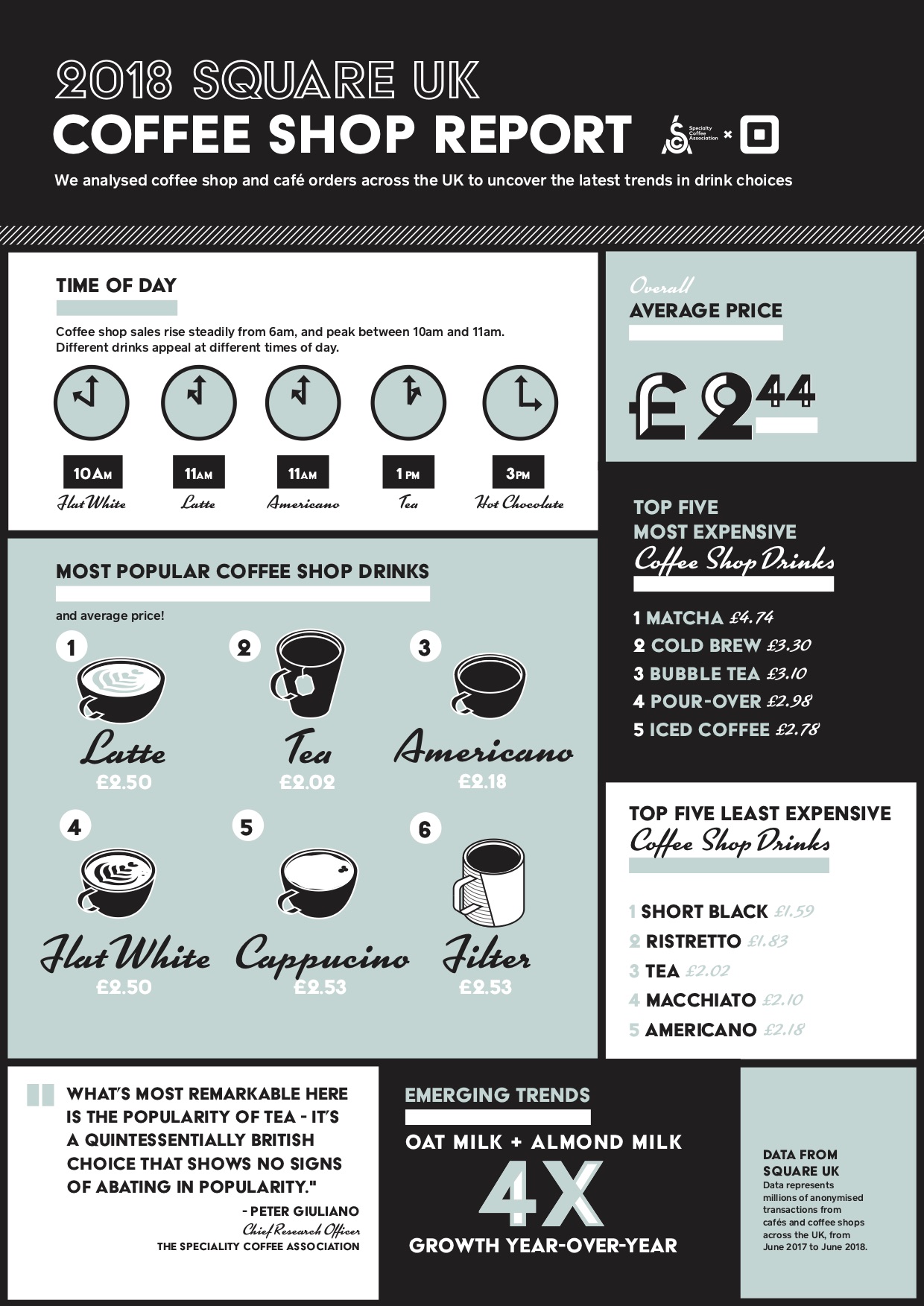 What did surprise us, though, was the second-most popular hot drink served up in independent coffee shops. It's tea. Is that the experience in your café? And if it isn't, does that mean you ought to pay a little more attention to that most archetypally British of drinks?
We think so. We're a supplier of leased commercial coffee machines, with little vested interest in the popularity of tea, but we still drink the stuff like it's going out of fashion. Which it clearly isn't. But we're not connoisseurs of tea, which is why the most expensive drink in the typical coffee shop came as a surprise to us too: the matcha. Matcha is essentially powdered green tea. It's been labelled a superfood, because of its enormously high antioxidant content. And it costs an average £4.34 to consumers in coffee shops around the country. That's a relatively big spend for a single drink. All those speciality tea shops opening up may well be onto something… For those independent coffee shops looking to shake things up a little, expanding your hot beverage range into tea territory may be a profitable move.
The third, fourth, fifth and sixth most popular coffee shop drinks are exactly what we'd expected, though: Americano, flat white, cappuccino and the good old-fashioned filter.
Peak sales in coffee shops are between 10am and 11am, according to the report, which tells us that it's not about the lunchtime rush, or picking up a pick-me-up before work. It's all about shopping trips, social time, freelancing out of home, and safe middle-ground meetings. Extra evidence, if you will, that providing the right interior seating and facilities (like power points and free WiFi) could add invaluable reason for visitors to spend time in your coffee shop.
We haven't forgotten about our dairy subheading. Is cows' milk the only milk you offer in your coffee shop? If so, you're behind the curve. Square's report reveals what we've heard from other quarters: plant-based milks are gaining in popularity fast, in retail and out-of-home sales. This research claims that almond milk and oat milk sales have enjoyed 4x growth year-on-year. That's a consistent trend that your coffee shop might do well to keep pace with.