It might seem like a stretch, but buying the right coffee machine for your office can have a substantial impact. The coffee you provide your employees has been proven to have a direct impact on productivity, teamwork, and creativity.
With more choice than ever and a coffee machine often being a large investment for most companies, it's important you understand the pros and cons of each option available and make the best purchasing decision based on your needs.
This blog will walk you through the available options, discussing their unique positives and negatives, ensuring you pick the best coffee machine for your office. Whether you're looking for an upgrade as your business expands or to purchase your first machine for your small business, you'll find the right machine after reading this blog.
Types of Machine Available
With the wide selection of coffee machines available on the market nowadays, it can be hard to decide which is best for your specific needs. Here we look at the most popular coffee machines available, weighing up their positives and negatives.
Bean To Cup Machine
Bean-to-cup coffee machines are favoured for their ease of use compared to market alternatives, such as commercial espresso machines, which require some degree of training. This makes them a popular option where self-service is a must. For instance, an office, car dealership or beauty salon environment.
Bean-to-cup coffee machines utilise both fresh milk and espresso coffee beans to produce espresso's, long coffee, cappuccinos, and lattes automatically at the simple push of a button. Bean-to-cup coffee machines come with automatic built-in grinders, meaning all you have to do is add beans.
Bean to cup machines can vary in terms of their volume output, making them a flexible choice for businesses large and small. For instance, a low volume bean-to-cup coffee machine can expect to make up to 30 cups of coffee a day, with a high volume machine making up to 200 cups of coffee a day!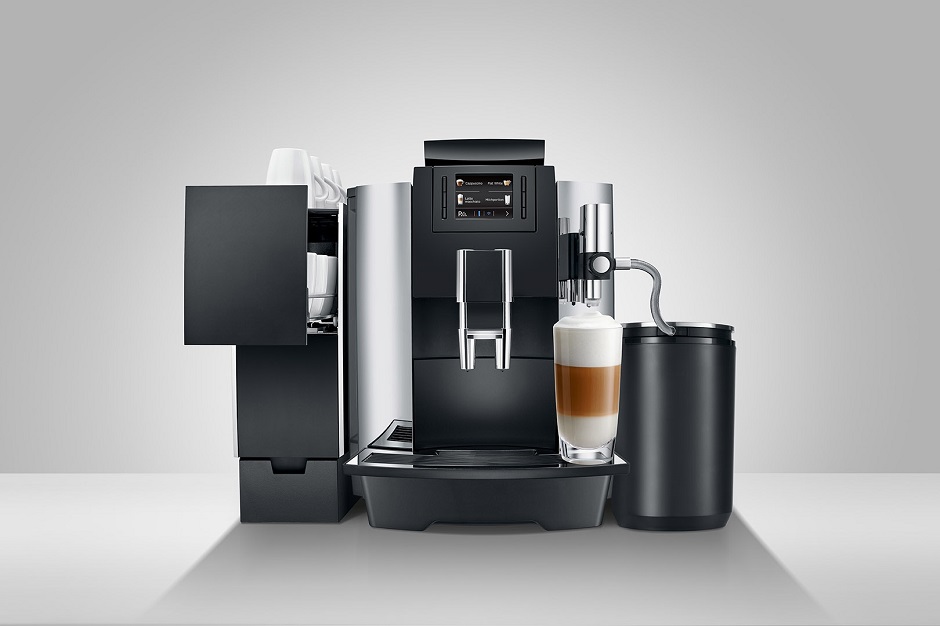 The Pros and Cons of Bean To Cup Machines
A bean to cup machine is user-friendly, fast, and offers a top-quality self-service solution for office environments, which rely on self-service functionality.
Bean-to-cup coffee machines can produce high-quality coffee at just the push of a button. Due to this 'one-touch' coffee-making ability, bean-to-cup machines are perfect for both employee and client-facing environments.
As well as their great taste and convenience, a bean to cup machine also benefits from its environmental sustainability. Whereas other self-service coffee machines use pods, sachets or filter paper, bean to cup machines don't. This ensures that no single-use materials are required in the making of the coffee, which would inevitably make their way to landfills and pollute the environment.
However, due to their high volume, bean-to-cup machines will require greater attention and cleaning than other machines. This is to ensure the machine continues to operate effectively and doesn't break down. However, the majority of bean-to-cup machines will have integrated rinsing and cleaning programs, which can be run at the touch of a button at the end of each working day to mitigate this potential drawback. Overall, bean to cup machines are an attractive choice for self-service environments, to serve both employees and clients.
Traditional Espresso Machine
A traditional espresso machine is the machine of choice for the majority of the hospitality industry, often found in use at cafes and coffee shops.
An espresso machine brews coffee by forcing pressurised hot water through the ground coffee and a filter to extract the best flavour from the coffee. Coffee beans are first ground to the desired consistency and added to what is known as a "puck". It is this puck that the pressurised water is forced through in order to create the desired shot of espresso.
Traditional espresso machines are durable and are designed for extensive use in commercial environments. However, certain machines are still viable for an office environment if staff are willing to carry out training on how to use the machine.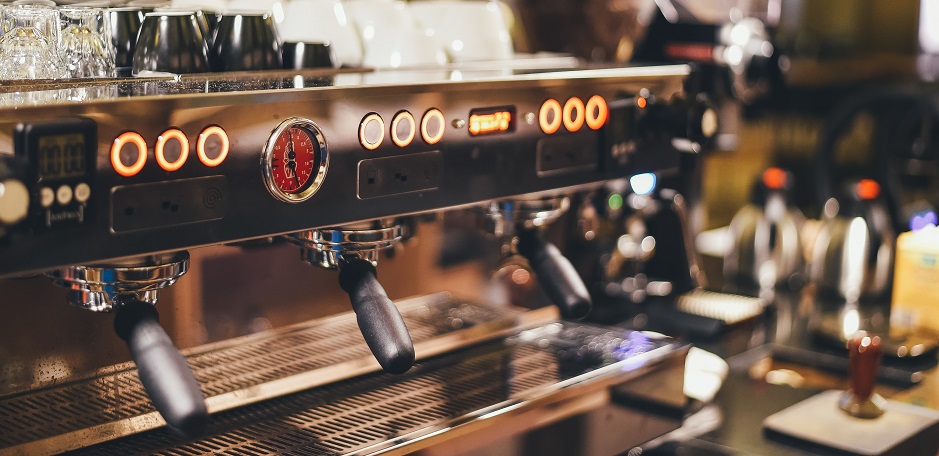 The Pros and Cons of a Traditional Espresso Machine
Traditional espresso machines are popular within the catering/hospitality industry due to their reliability, flexibility, and coffee quality. These qualities allow a traditional espresso machine to endure extensive use for a longer period of time.
Due to both the extraction process and flexibility of the machine, traditional espresso machines also produce better quality coffee, although this is dependent on the user. Being fully customisable, a whole host of different beverages are able to be created, based on individual preferences.
However, there are drawbacks to the traditional espresso machine, especially when partnered with an office environment. Firstly, as the machine is more complex to use, it would require the training of staff. Without training, they aren't suitable (and may even be dangerous) if used as self-service machines for both employees and customers.
In addition, espresso machines require the use of a coffee grinder. Coffee grinders can be loud and for this reason would likely become a distraction in an office environment, depending on the machine's placement.
Instant Coffee Machine
Instant coffee machines are known for their quick service times, with the ability to produce hot drinks at the push of a button in under 20 seconds. This quick service time, paired with their ability to produce a variety of different hot drinks, makes an instant coffee machine the perfect pairing for waiting rooms, offices, hair salons, and staff rooms.
Instant coffee machines are simple in their operation. The instant coffee, tea, or chocolate powder is stored in containers within the machine. The user will select their preferred drink and pay using the included screen. Their required powder is then added into a cup of hot water and mixed, along with any milk and sugar that they have requested.
Instant coffee machines are typically able to dispense large volumes of individual beverages before needing to be refilled, making them an ideal office coffee machine. However, whilst instant coffee machines are able to service large staff numbers economically and efficiently, this is often at the sacrifice of quality.
The Pros and Cons of Instant Coffee Machines
As we've covered, instant coffee machines are capable of servicing large numbers of staff in an economical and efficient manner. This makes them an ideal solution for offices, where regular maintenance and refilling would become inconvenient.
Due to their flexibility and range of drink options, instant coffee machines are popular as they appeal to almost everyone. For this reason, you could be confident that both employees and clients were being catered for.
Instant coffee machines have the additional benefit of being easy to clean and maintain. Most commercial instant coffee machines will have built-in cleaning programs which can be run at the end of each working day, with deeper cleans being carried out on a weekly or monthly basis.
However, these benefits come at a cost - the quality of the coffee. Compared to bean to cup machines and traditional espresso machines, instant coffee machines produce lower quality coffee. With more and more employees drinking coffee than ever before, this could become a deciding factor.
How to Choose
Hopefully, you now have a greater understanding of the coffee machines available to your business. When it comes to deciding which to choose, there are a number of characteristics you should take into consideration:
How many people will the machine need to serve on a daily basis?

How long does the machine take to brew a coffee? Will this be fast enough?

What is your budget? Don't forget to factor in maintenance contracts and the cost of supplies!

Do you require a variety of hot drink options or will just coffee and tea suffice?

Coffee capsules, pods, instant or fresh coffee beans?

How simple does the machine need to be to operate?

Do all employees or a designated person have to clean the machine?

How easy and how regularly will the machine need to be cleaned?

Are you concerned about the environmental sustainability of the machine?
These are but a few of the questions you can ask yourself when deciding the best choice of coffee machine for your business. These questions will help you identify your priorities for your machine, as well as the "nice to haves".
Love Coffee?
Nationwide Coffee are specialists in coffee machine rental, leasing and selling across the United Kingdom. We operate and service numerous industries and clientel, offering instant, bean-to-cup & espresso machines.
Contact us today to learn more.