What is latte art?
Latte art is a process of pouring pre-foamed milk into a shot of espresso, which results in the creation of a pattern or design on the surface of a coffee. Recently, it has also become common to 'etch' into the top-surface layer of foam on a latte, a technique used by many amateur baristas for its simplicity.
A barista's most impressive quality is their ability to create pretty latte art. Latte art offers an enormous scope for creativity, only limited by imagination and skillset.
In fact, barista latte art is so competitive that there are multiple nationwide competitions dedicated to rewarding baristas based on their creativity when it comes to pouring milk!

Latte art can boost your business
You maybe thinking that surely something so simplistic would have no impact on sales? However, this is not the case. It's a known fact that many consumers 'shop with their eyes', in that their first experience with a product is visual. Think about it; would you rather receive a dull, simplistic flat white or a creamy latte with a graphic on top? Here we discuss the importance of latte art for your business; whether it be a hotel, cafe or restaurant and the importance of investing in staff barista training.
Crucially, latte art is a direct reflection of both the experience and quality of your baristas. By producing fancy coffees with appealing latte art to boot, it's a reflection of the quality of the drink itself and can demonstrate to customers that the drink has been prepared with care in mind. This level of customer care is what they will remember when they're suggesting coffee houses for friends and family, or when they're deciding where to get their next morning coffee.
Generate profit from latte art
People visit specific cafes for an experience and it's no longer acceptable to just throw some beans in a grinder, make a shot of coffee and pour in some hot milk - good latte art is an important factor which determines customer experience and results in a successful coffee shop.
Due to the fact that coffee looks great when you get latte art right, it instantly increases your customers perspective of the drink quality and value for money for it. People are prepared to pay more for their drinks and value it higher when it looks and tastes terrific and therefore you can charge more per drink than a standard coffee.
Participants in an experiment were shown pictures of coffee drinks with and without milk-based art and asked to rate the likability and expected price of the drinks. The cappuccinos and lattes featured in the study with artwork were rated higher than those without – and were also expected to be at least 11% more expensive.
Taking some extra care and attention when it comes to your product can really pay off.

Free online exposure with latte art
Simply by learning latte art, you could benefit from an unlimited amount of free advertising. How? With the power of social media!
Your coffee customers are more active on social media than ever before! Your business should be capitalising on this statistic. By offering visually appealing coffee's, it increases the likelihood that they will be shared on social media, for their friends and family to see. Type in "latte art" into any social media network and you'll be met with a flood of users sharing their coffee experiences. You should be wanting to tap into this online community.
Discover how your coffee shop, restaurant or pub can utilise social media to increase visibility and sales.
Barista training
A fundamental step to being able to offer quality latte art is having skilled baristas behind the counter. If you can't afford to invest in pre-qualified baristas, barista training is the option for you.
There are a number of qualifications and certifications out there, all of which will improve the skill set of your baristas and enable them to create picturesque latte art.
An investment into your baristas should be viewed as a direct investment in the quality of your product offering. Through barista training, you'll provide your staff members with the knowledge, experience, confidence, and know-how to create perfect coffees for your customers, every time.
This level of quality and consistency will be your competitive edge over your other local coffee offerings. This level of quality and consistency will be what turns your customers into loyal, repeat, ambassadors for your brand.
In short, barista training, whilst expensive, should be viewed as a long-term investment that will pay dividends in the future in the form of repeat customers and engaged, loyal staff members.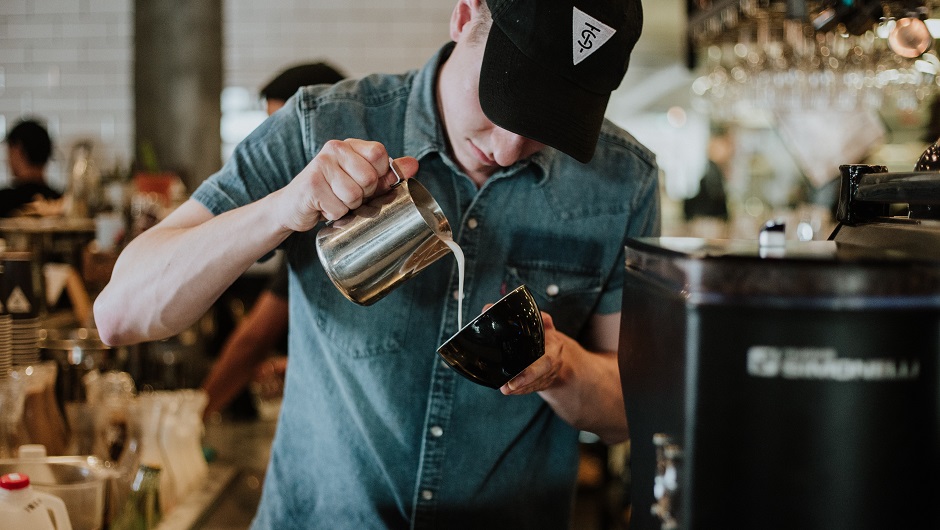 Conclusion
As well as looking good, latte art in itself can be an ambassador for your business. Tasty coffee is what keeps people coming back to the same place and anything you can do to set yourself aside from the dominant high street chains is of great benefit. Smaller coffee shops with low staff turnover have the advantage of being able to train their staff more thoroughly and produce better latte art than anyone else.
People visit coffee shops for the experience, and a good experience will create loyalty with your customers. It's also important to have drink consistency as one bad drink could mean the loss of a life-long customer. We really recommend barista training for all these reasons and if your budget won't stretch to train all your staff, it's a great idea to train up one barista who can then pass on the knowledge to the rest of your team and any new starters.