An iced coffee usually surges in popularity over the spring and summer months, but they are usually bought in a shop rather than made at home.
But with most coffee shops shut due to the coronavirus pandemic (other than a select few offering drive-through services) many have been wondering how exactly you can recreate your coffee shop favourite, be it from a commercial chain or boutique local.

What you'll need to make your iced coffee
You'll be happy to hear that the list of essentials to make a homemade iced coffee is relatively limited, making this an option for almost everyone.
Here is a list of what you'll need:
Your favourite ground coffee or instant coffee
Your preferred milk (be it dairy or plant-based)
Ice cubes
Sugar (for those of you who prefer a sweeter coffee)
Flavoured syrups (which syrup depends on the kind of coffee you're after!)
A blender (again, depends on what coffee you're trying to recreate)
A container to let the coffee cool in
A glass to serve the iced-coffee in
Cream is optional, depending on whether you want a thicker coffee or not.
How can I make iced coffee?
There are two options available to you when deciding how to make your iced coffee - with a blender and without a blender. The benefit of using a blender is you're able to texturise the ice, making it as big, or small, as you like.
With a blender:
If you use a blender, it's quick and easy and as previously mentioned, you have control over the size of the ice. So whether you prefer crushed ice or cubes, you'll be able to personalise your drink to your preferences.
Freshly brew some coffee and add it straight into the blender along with your ice cubes and milk of choice.

After your initial blitz with the blender, add all of your additional flavourings and sugar to taste. Once added, blend again for another 5 seconds or until the consistency you want.

Serve in a cooled glass of your choice and relax!
Without a blender:
Don't fret, its not essential to have a blender to make iced coffee at home. Whilst it's quicker with a blender, taking your time to create your iced coffee manually can pay off in terms of precision and overall flavour. For this method, it's important to note that you need to brew a strong coffee to counteract the dilution of ice.
Brew your coffee strong (either by using more grounds or a stronger origin) to counteract the dilution from the ice. You can always use a normal amount of coffee if you prefer your iced coffees weaker.

After you've added the coffee to your container, whilst still hot, add your sugar to taste. By adding the sugar at this stage instead of at the end, you ensure the sugar is dissolved into the mixture.

Transfer the coffee into your container of choice and allow to cool at room temperature for up to an hour. This step is important as if you were to put your hot coffee straight into the fridge, the sudden change in temperature may alter the flavour of your coffee.

Once your coffee has reached room temperature, now its time to move it to your fridge. 2 hours should be plenty to cool your coffee down to a regulated 4 degrees.

Remove your coffee from the fridge and serve in your glass of choice, add a few ice cubes and add milk or cream to taste. Remember to stir all components together thoroughly.
Finishing touches
For those of you who are after the full experience (we're guilty), you'll be wondering where the presentational touches come in.
There are a variety of options out there to set your iced-coffee apart, including decorative glasses and topping syrups of all flavours! Why not top yours off with some whipped cream? The possibilities are endless.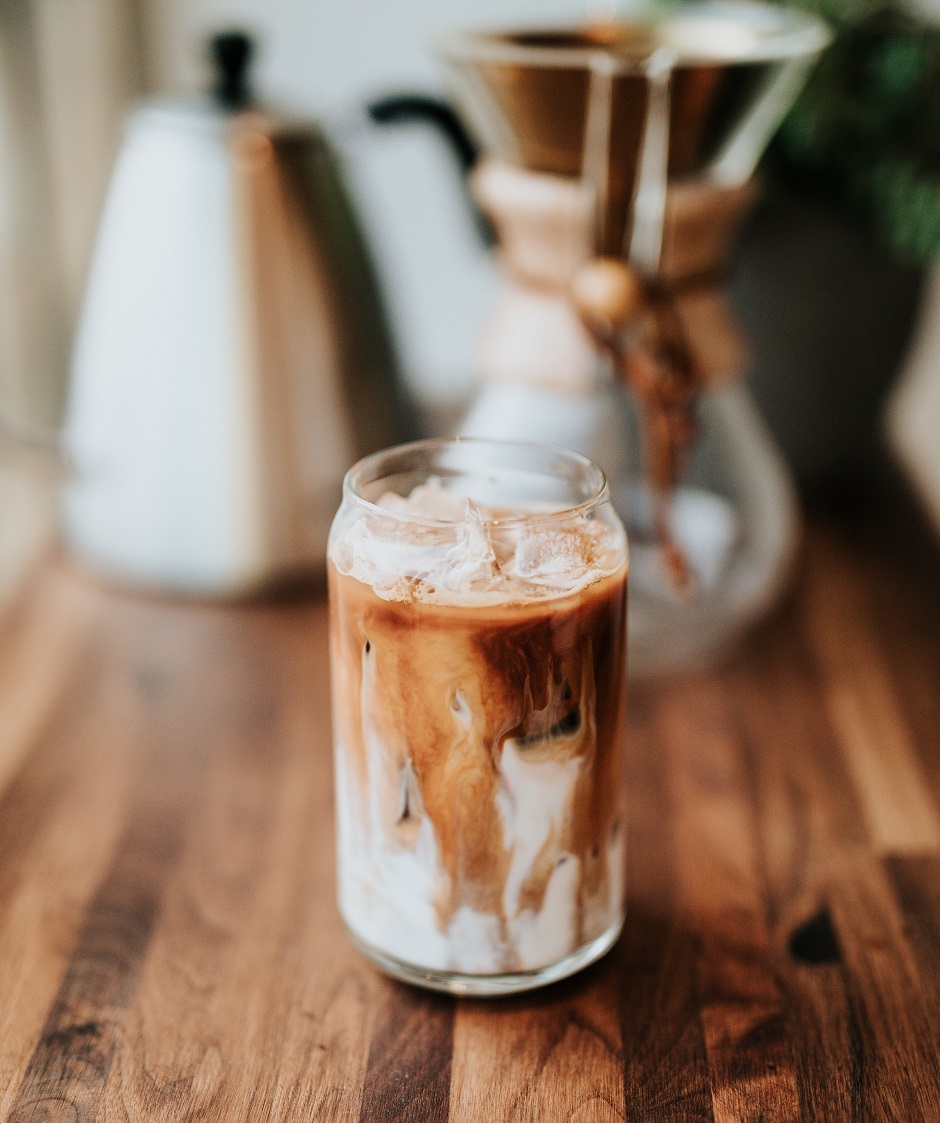 Perfect refreshing drink
And there you go! The most refreshing drink on a hot summer's day, with plenty coming up!
If you follow our guide to making iced-coffee, don't forget to share it, tagging @nationwidecoffee on any social media platform.