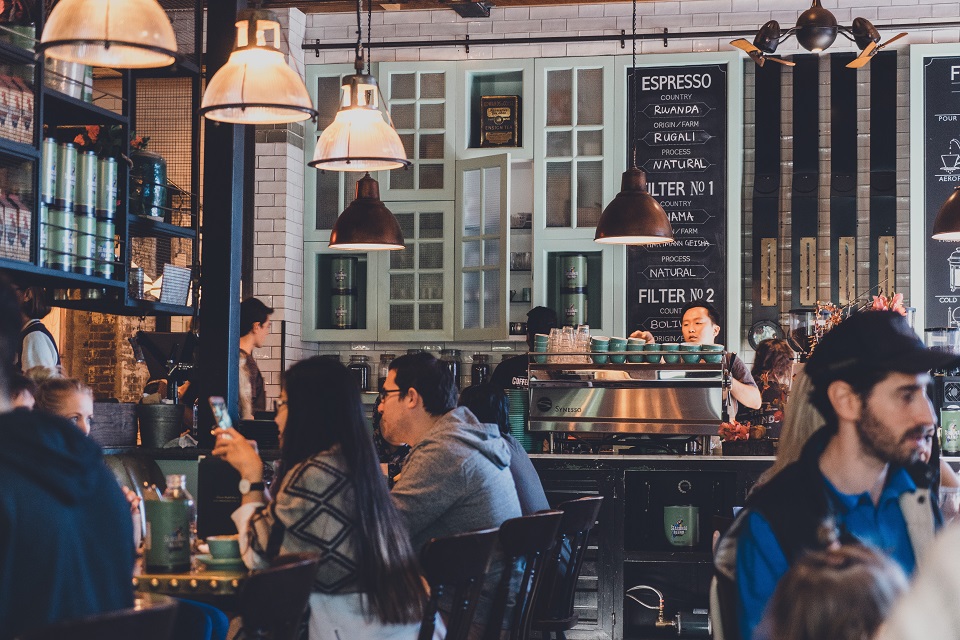 If you're considering opening a new coffee shop, what do you think are the most important factors making the difference between a successful coffee shop with a vibe, and a place where your espresso machine wonders why you've bothered? Here you'll find our 5 top tips for a successful coffee shop – but remember, this is just a starting point. Take the time to read back through our news section for all sorts of advice on running a coffee shop.
New coffee shop top tips
Pick the right building, in the right venue. The make-or-break importance of this is so obvious, yet so often overlooked. Your ideal location is going to include ready-made passing footfall, a view through the windows worth actually looking at, and outside space where you can set up tables in warmer weather. If you're close to parking, so much the better. But even the most glorious location has a lot of hard work to do if the building itself isn't up to scratch. You need a sensible footprint where you can maximise tables without cramming people together – yet with a number of covers you can deal with; space for customers to form an orderly queue for your incredible coffees; a good counter/till/espresso machine configuration to make customer communications really easy; display space to encourage impulse buys, whether that's of your range of homemade cakes or branded, eco-friendly, refillable coffee cups; a preparation/kitchen area that's closed off from customers; and customer toilets which aren't tucked away down a dodgy alley or three storeys up a winding, precarious staircase.

Focus on the floorplan. And do it before you sign that lease. Depending on the type of coffee shop you're opening, you'll have an idea about the customer capacity you can hope for and cope with. Where will they sit? Do your shop seating plans maximise any views? Will a queue – because your coffee machine is underspecified for your roaring trade – cause a nuisance to you and your sitting customers? Is there room to manoeuvre pushchairs along the queue and between tables? Are there power points for customer laptop use, or do you want to consider adding more – where your outlets are positioned makes a big difference if you want recharging as a selling point.

Get the coffee right. You don't have to be a coffee nerd or obsessed with the finer points of coffee bean roasting, but you do need to source delicious, ethically sourced coffee and other products, and you do need barista training. You also need to lease the right espresso machine – and if you're buying a coffee machine there's even less margin for error. From the first coffee you create, you need to create visually appealing and tastebud-pleasing drinks. It's not just that that's the main reason your customers walked in, it's that competition between coffee shops on the high street is so fierce. Serve up anything but the best, and you'll lose custom straight to the big chains, whose coffee tastes don't meet aficionados' standards, but do the trick for plenty of people who could be buying from you…

Get the service right. Serve us the most beautiful espresso on the planet, and we might overlook a sullen expression, a lack of greeting when we arrive, or even an unconvincingly cheerful service. Serve us the third best, and the fact you couldn't raise a smile when we walked in means we won't be back again. Always, always smile and make eye contact – don't overdo your eye contact; let the smile reach your voice; say please and thank you; make polite and sincere conversation while you serve and make the coffee. Don't be intrusive with your questions, don't make customers feel pressured to talk, but be upbeat and warm. You'd be surprised by how much difference this makes to customer loyalty and even how you can transform someone's day for the better.

Get marketing - like you opened a coffee shop just so you could have more marketing experience. Several months before your opening day, you want to be raising awareness. Get your branding, interior and exterior designs worked out, and start building word of mouth and social following. Create a buzz – and not just the caffeine-fuelled kind. Invest time in setting up social media profiles and timetable ongoing marketing. Plan a launch party. Talk to the local press. Get flyers designed, loyalty cards and even free coffee cards for that first week. Build your network – talk to other local business owners, local chambers of commerce and networking groups, and make yourself in invaluable, indispensable and always giving part of your local community.
Get those 5 coffee shop planning tips right and the rest will come along nicely. For further coffee business advice, please keep a close eye on our news pages, and for the best espresso machines for coffee shops, just give us a call on 0800 840 9023 or drop us an email to info@nationwidecoffee.co.uk.